Every morning iCoreVerify automatically attempts to retrieve a verification of insurance for all patients scheduled over the next seven calendar days. The Real Time Benefits Check (RTBC) will run with the Patient's Information, and the Payor/Insurance information that has been entered in your practice management software. In order for the RTBC to run successfully all of this information must be valid and entered in the correct fields.
In the Benefits Check Column, you will see color-coded icons that will provide more information if the Benefits Check was successful or if more information is needed to complete the benefits check.
A Closer Look at the Icons
Report Icon: Indicates Real Time Benefits Check was run

ID Card: Represents the Patient's demographic information.

Insurance Card: Represents the Patient's insurance information.

Double Paper Icon: Indicates Real Time Benefits Check was run

Two icons indicates that the Real Time Benefits Check has not yet been requested.

Four icons indicates that the Real Time Benefits Check has been requested
Icon Colors and Their Meanings
iCoreVerify will run the RTBC every day for the next 7 days of appointments. The system runs at 12:00 AM as well as every 2 hours during the day.
Valid patient and insurance information
Missing subscriber's Member ID
Missing payer's info
Missing patient's date of birth
Missing patient's/subscriber's info
Missing payer's info

A successful Real Time Benefit check will display four green icons
| | | |
| --- | --- | --- |
| | The RTBC was successful | |
iCoreVerify will attempt to sync any updates from the practice management software every 30 minutes on the hour after the initial sync. Yellow icons indicate missing or invalid information.
Invalid provider info
Invalid patient info
Payer does not offer RTBC
Invalid subscriber info
After four failed attempts to run a successful RTBC (2hours) the yellow icons will turn to blue
| | | |
| --- | --- | --- |
| | RTBC failed | |
Quick Tip:
If you need to adjust or correct any missing or incorrect information, you will need to return to your practice managment software to make those corrections.
Real Time Benefits Report
When you click on the Report Icon, the Benefits Report will be displayed. It will display information on Coverage Type, Coverage Dates, Maximums, Plan Provisions, Frequency Limitations, and Age Limitations.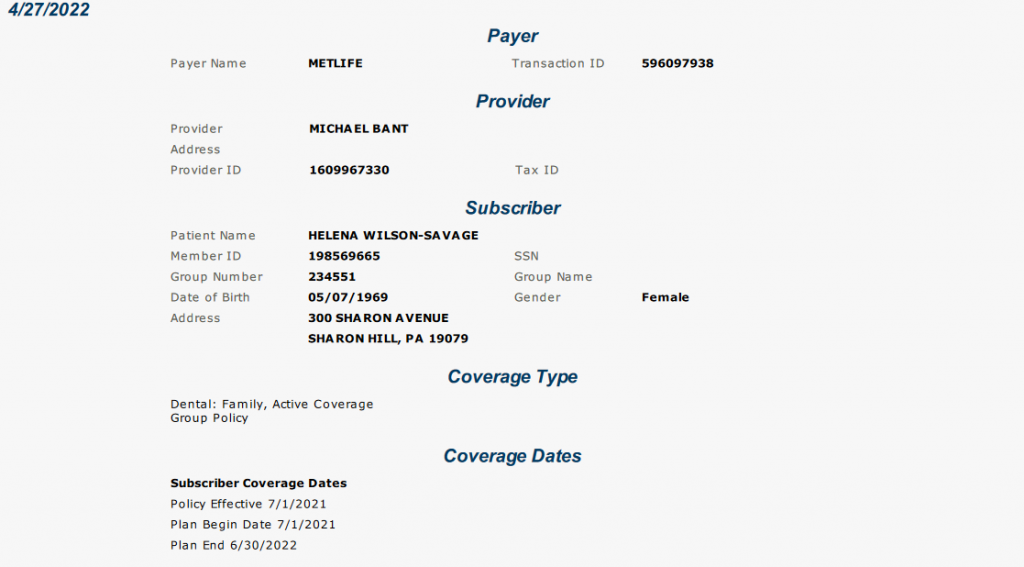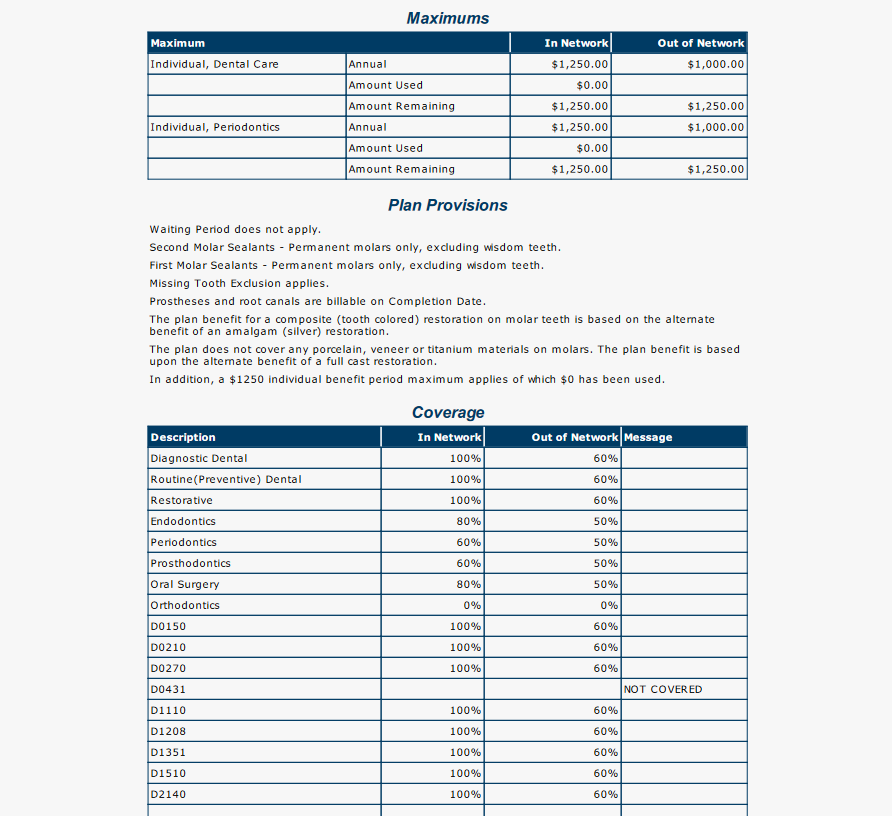 You can Print this report, Save the report, or you can Request a New Real Time Benefits Check using the buttons located at the bottom of the report.

---